Gene therapy for neuromuscular diseases
The "Gene Therapy for Neuromuscular Diseases" team at UMR 1089 is currently focused on translational research to treat Duchenne Muscular Dystrophy (DMD) using gene therapy.
DMD is an X-linked inherited disease affecting about 1:5,000 male births. It is caused by mutations in the DMD gene coding for dystrophin, a cytoskeletal protein that is critical for the stability and function of muscle cells. DMD patients develop muscle weakness during the first years of life, and although palliative treatments are available, they become wheelchair-bound before the age of 15 years. DMD is characterized by a highly life-threatening muscle wasting condition (walking loss, respiratory and cardiac complications). To date, no effective treatment has yet been established, and the current symptomatic management of the disease remains still insufficient.
Gene therapy, which could target the genetic defect itself, appears today as a relevant alternative/complementary therapeutic strategy. Recombinant adeno-associated virus (rAAV) vectors are particularly efficient in transducing skeletal muscle fibers but also cardiomyocytes, and allow long term in vivo transgene expression.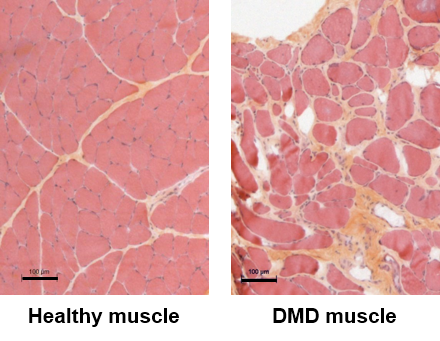 In collaboration with several French and international laboratories our team is currently involved in the preclinical evaluation of several rAAV-based gene therapy products for DMD:
rAAV-U7 exon skipping (the selective removal of exons flanking an out-of frame DMD mutation)
rAAV-micro/mini-dystrophins (shortened transgenes, coding for partially functional dystrophin).
The goal of our studies is to demonstrate the efficacy and the safety of these therapeutic products (including pharmacokinetics and pharmacodynamics), while optimizing their mode of delivery and the injected dosed, to finally provide results from proof of concept phases to the beginning of Phase I/II clinical trials in DMD patients.
Our team has particular expertise in
Evaluation of in vitro & in vivo functionality of gene therapy products
In vivo experiments global coordination
Evaluation of gene therapy product biodistribution in tissues & shedding in biological fluids following in vivo administration
Evaluation of gene expression profile
Analysis of calcium-related events in skeletal and cardiac muscles
Pre-clinical IND writing.
Of note, all our studies are conducted under
ISO 9001, version 2015 approved quality system
.
Team members
Caroline Le Guiner, PhD, Team leader
Bodvaël Fraysse, PhD, Senior scientist
Corinne Huchet, PhD, Teacher and senior scientist
Virginie François-Le Razavet, Engineer
Marine Allais, Engineer
Cyrielle Lebreton-Barbot, Technician
Audrey Bourdon, PhD student
Anna Creismeas, Master student
Basile Marie, MD student, Master student
Sandra Mercier, MD, PhD, MCU-PH, Associate researcher
Yann Péréon, MD, PhD, PU-PH, Associate researcher
Mis à jour le 01 June 2018 par Manuella GUILBAUD.