Monitoring host immune responses in gene therapy studies
Closely linked to the U1089 research team Immunology for gene transfer , the Gene Therapy Immunology core (GTI) provides skilled expertise in the monitoring of host immunity in preclinical and clinical gene therapy protocols.
A wide panel of analysis
We propose various analysis for the monitoring of immune response against the vector and the transgene product.
Humoral immunity
Viral neutralizing factors (AAV, Adenovirus)
Antibody detection (ELISA, Western Blot)
Cytokine quantification
Cellular Immunity
T cell response assessment :

ELISpot
Cell proliferation assay
Multimer

Multiparametric cell phenotyping (flow cytometry)
Various analysis settings
Our assays are avalaible for multiple vectors:
AAV1, AAV2, AAV3, AAV4, AAV5, AAV6, AAV8, AAV9 et AAV10
Adenovirus
And various species :
Mouse
Rat
Dog
Monkey
Human
Do you work with other vectors or species? Do you want to monitor anti-transgene immune response? Contact us, we can develop customized assays for your study.
Sample analyzed
PBMC (Peripheral Blood Mononuclear Cells)
Splenocytes
Lymph node cells
Plasma
Serum
Cerebro Spinal Liquid
Do you need we prepare the samples for immune analysis?
We also propose :
Plasma /serum isolation from whole blood
Cell isolation from :

Whole blood (PBMC)
Spleen
Lymph nodes
Bone marrow
From research studies to clinical trials
The GTI core is involved at the different steps of product development from research and pilot studies to regulatory studies: toxicology and clinical trial. The activity is submitted to the quality management system approved by LRQA certification to ISO 9001:2015 and applies Good Clinical laboratory Practices (GCLP) for clinical trials monitoring.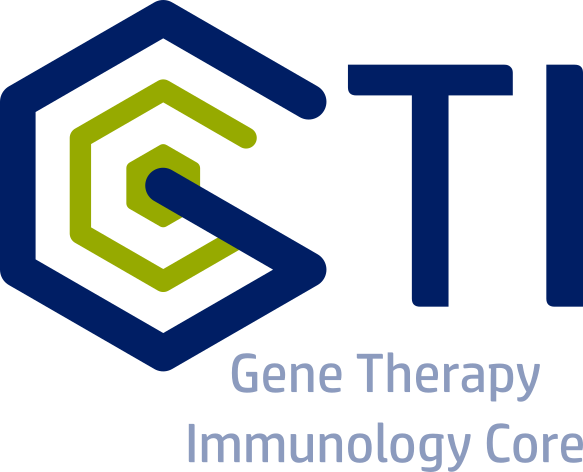 Contact
Scientific head :
Operational manager :
Phone : +33 2 28 08 04 30
Mis à jour le 16 February 2022 - Manuella GUILBAUD.